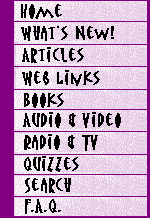 ---
Apologetics Coordination Team
is now affiliated with
Moriel Ministries International

---
Great Discernment Tools!
---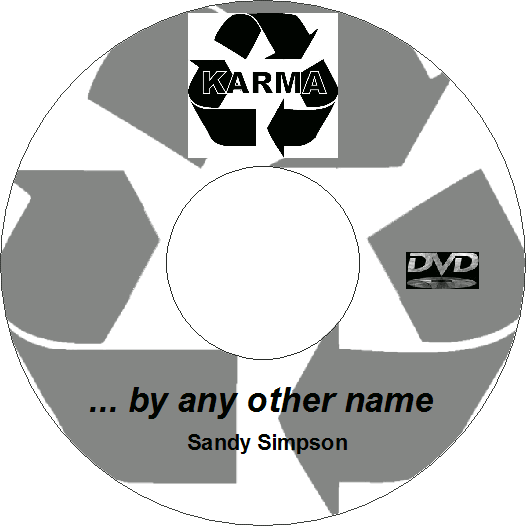 Karma (by any other name)
by Sandy Simpson


This DVD is a message based on this article.

According to Wikipedia:

"Karma means action, work or deed; it also refers to the principle of causality where intent and actions of an individual influence the future of that individual. Good intent and good deed contribute to good karma and future happiness, while bad intent and bad deed contribute to bad karma and future suffering. Karma is closely associated with the idea of rebirth in some schools of Asian religions. In these schools, karma in the present affects one's future in the current life, as well as the nature and quality of future lives - or, one's samsara. With origins in ancient India, it is a key concept in Hinduism, Buddhism, Jainism, Sikhism, Taoism, Shintoism, Ching Hai and others."(emphasis mine)

Mirram-Webster defines it this way:

the force created by a person's actions that is believed in Hinduism and Buddhism to determine what that person's next life will be like: the force created by a person's actions that some people believe causes good or bad things to happen to that person

Given the definitions of "karma" above, this same idea, usually without the reincarnation aspect in Christian circles, has been taught for decades in New Thought movements such as the Positive Thinking/Positive Confession teachings of Norman Vincent Peale & Robert Schuller, the Word of Faith ideas of Essex Kenyan, Kenneth Hagin, Kenneth Copeland and Benny Hinn, the mixture of Eastern Mysticism and Christianity by Korean false teachers such as the "force of faith" Paul Yongii Cho, and newer renditions and fusions by people like Joel Osteen, Joseph Prince, T.D. Jakes (recently agreeing with Oprah Winfrey who teaches karma on her WHO network), and others such as Ernest Angley, John Bevere, Markus Bishop, Juanita Bynum, Morris Cerullo, Kim Clement, Paul Crouch, Creflo Dollar, Jesse Duplantis, Marilyn Hickey, Brian Houston, Rodney Howard-Browne, Larry Huch, Bishop Eddie L. Long, Clarence McClendon, Joyce Meyer, Myles Munroe, Steve Munsey, Mike Murdock, Rod Parsley, Peter Popoff, Fred Price, Oral Roberts, R.W. Shambach, Robert Schuller, Karl Strader, Robert Tilton, Paula White, Ed Young and many others.

Only $10. plus s/h. for US.

Go here for product information.
---
His Name, The Only Name
by Sandy Simpson


This DVD is a message based on this article.

Zechariah 14:9 NIV The LORD will be king over the whole earth. On that day there will be one LORD, and his name the only name.

The reason I wrote this article based on Zech 14:9 is that I was reminded of how many so-called Christians, who are influential in the churches, are promoting the worship of God in the names of other gods.

Only $10. plus s/h. for US.

Go here for product information.

---
Replacement Theology On Steroids
by Sandy Simpson


This DVD is a message based on this article.

So, as you can see, the root of this teaching is that Israel no longer holds the distinction of being the tree from which the Root of David (Jesus-Rev. 5:5, 22:16) came. They are no longer the "natural branches" (Israel-Rom. 11:21) on to which Gentile Christianity (the wild shoots-Rom. 11:17 or wild branches-Rom. 11:24) are grafted in (Rom. 11:17-24). According to Replacement Theology, Christianity has now become its own branch apart from Israel (the natural branch) that produced the Root and all the promises of the Bible to Israel have been taken away from them and given to the Gentile Church. This is why you hear so many false teachers taking verses out of context from the Old Testament and willy-nilly applying them to the Gentile Church. This methodology has been going on for decades in liberal churches and has been popularized by many false teachers on TV. But the fact is that Replacement Theology is utter false doctrine. It denies promises made to Israel, some of which have already been fulfilled and some which are yet to come to fruition. But when you add the fact that the Inclusivist WCGIP proponents are now saying that God planted hundreds of different trees, cultures all over the world, that are not connected to the natural branch, tree and Root, you have what can only be termed Replacement Theology on steroids!

Only $10. plus s/h. for US.

Go here for product information.
---
Those Who Do Not Lead Christians to Maturity
by Sandy Simpson


This DVD is a message based on this article.

The Scriptural definition of maturity is to learn to discern truth from error so that the Christian will no longer be double minded, blown about by every wind of teaching and by the schemes of crafty people. But the problem today is that so few Christian teachers are feeding their flock's solid food. They are serving up milk and, because of that, people are starving. Yet they often don't even know they have been on a starvation diet. Amos 8:11 "The days are coming," declares the Sovereign Lord, "when I will send a famine through the land - not a famine of food or a thirst for water, but a famine of hearing the words of the Lord."

Only $10. plus s/h. for US.

Go here for product information.
---
"... and all liars"
by Sandy Simpson


This DVD is a message based on this article.

Lying is a problem for all people (Ps. 116:11). We are all sinners (Rom. 3:23). Those of us who are Christians are "sinners saved by grace" (Eph. 2:8) indwelt by the Holy Spirit in our "new self" (Col. 3:10). But we still live in our "old self" which we must "put off" (Eph. 4:20-25) by taking up our cross daily and following Christ (Luke 9:23). The difference between unbelievers and those who are truly born again is that believers no longer "practice sin" (1 John 3:9, see my Bible study on 1 John!) They have the indwelling Holy Spirit (Rom. 8:11) who convicts them when they lie (John 16:8). True believers then repent (1 John 1:9) and go on to "practice righteousness" (1 John 2:29) with the Lord's help. The unregenerate, the false brothers, or those who have fallen away (Gal. 5:4, Mark 4:17), practice lying. They practice a lifestyle of lying because their consciences are seared (1 Tim. 4:2) and the Holy Spirit, when convicting them, cannot break through the hardness of their unrepentant hearts (Eph. 4:17-19, Heb. 3:13).

Only $10. plus s/h. for US.

Go here for product information.

---
Four Books That the Enemy Has Used To Corrupt Christianity
by Sandy Simpson


This DVD is a message based on this article.

The four books that have changed the church by giving an introduction to the false teachings of the New Apostolic/Latter Rain (NAR), the Emerging Church/Contemplative/Catholic Mysticism (EC), pragmatic Church Growth (CG) methodologies of C. Peter Wagner, Robert Schuller and Peter Drucker, and the teachings of the World Christian Gathering on Indigenous People (WCGIP) are as follows:

Surprised by the Power of the Spirit by Jack Deer, Celebration of Discipline by Richard Foster, Purpose Driven Church by Rick Warren & Etnerity In Their Hearts by Don Richardson.

These four books were widely read by Christians from virtually every denominational background before their ramifications and the movements they would spawn were known. They lay error alongside truth so were considered not to be a threat to churches. Therefore these books then became part of the consciousness of many Christians and churches, thereby laying the basis for the introduction of the modern day false teachings of the NAR, EC, CG and WCGIP that have become part of the landscape of Christendom today.

Only $10. plus s/h. for US.

Go here for product information.
---
Night Marchers and UFOs on the Big Island
by Sandy Simpson


This DVD is a message based on this article.

With the resurgence of the old religion of Hawaii and the continual invocation of Pelé and other "deities" for years in the secular culture and even in churches with regards to worshipping 'Io, is it any wonder that those beings are beginning to manifest again? In a story called "Night Marchers" on the Kawaihae site and in a YouTube video on the same subject, eyewitnesses claim all kinds of sightings that they think are the warriors, ancestors and demi-gods of Hawaii coming back. Interestingly the first book the Hawaiian Heritage site recommends in its "Suggested Reading" list is "Perpetuated in Righteousness" by Daniel Kikawa that we reviewed in our book "Idolatry In Their Hearts" by Sandy Simpson and Mike Oppenheimer. Since Kikawa claims that 'Io is the True God and one that the Hawaiians worshipped in secret, we have to wonder if Kikawa also thinks 'Io is showing up in these night marches? Since YWAM, Aloha Ke Akua and Hilo New Hope participated in worshipping 'Io at the "edge of Hale-ma'uma'u Crater" it sounds like they have all been inviting the old "gods" to return to Hawaii.

Only $10. plus s/h. for US.

Go here for product information.
---
"They Will Believe
The Lie"
by Sandy Simpson


This DVD is a message based on this article.

I am doing a Bible study right now on what I would call "renewing our minds". It is based on this verse:

Romans 12:2 Do not conform to the pattern of this world, but be transformed by the renewing of your mind. Then you will be able to test and approve what God's will is - his good, pleasing and perfect will.

The only way to renew our minds is to believe on the Lord Jesus Christ, confess our sins, and be saved, then to study the written Word and allow the indwelling Holy Spirit to teach us. Our minds are corrupted by virtue of the sin nature and what we have learned in life because our filters are off. I gave an illustration of straining coconut to make coconut milk. If you use a 1 inch screen everything will pass through. Even if you use a quarter inch screen you will get mostly coconut meat in your milk. You have to use a fine screen in order to separate the milk from the leftover. Our filters are off and the first thing God begins to do is correct our worldview, because if your worldview is off you will not understand God's reality. We need to learn to see things from His perspective. This is why I started this study by going back to an original problem.

2 Thessalonians 2:9-12 The coming of the lawless one will be in accordance with how Satan works. He will use all sorts of displays of power through signs and wonders that serve the lie, and all the ways that wickedness deceives those who are perishing. They perish because they refused to love the truth and so be saved. For this reason God sends them a powerful delusion so that they will believe the lie and so that all will be condemned who have not believed the truth but have delighted in wickedness.

This has always been an interesting passage to me for a few different reasons. What is "the lie" that is talked about here in verse 9 and 11? What are the ways that "wickedness deceives those who are perishing" and how long has this been going on or does this only begin to happen at the coming of the lawless one? In what way does "the lie" cause those who do not believe the truth to "delight in wickedness"?

Only $10. plus s/h. for US.

Go here for product information.
---
Updated!
The First Nations Movement
Deceiving The Nations!
4-DVD Series

Critical Missiological Issue!
The "Indigenous People's" (IPM) or "First Nations" movement is an unbiblical movement teaching heresies and doctrines of demons. It is being spread worldwide by YWAM, Don Richardson, John Dawson, Richard Twiss, Terry LeBlanc, Daniel Kikawa and many other adherents. The IPM or World Christian Gathering On Indigenous People is full of the false teachings of the Third Wave, New Apostolic Reformation (NAR), Word-Faith, Dominionism, Latter Rain and many other false theological systems. But it does have it's own distinctives that are driven by the works of Daniel Kikawa, Richard Twiss, and Don Richardson in particular. They are teaching Christians to "redeem" their cultures by worshipping their former gods, pretending they are YHWH.
Go here for ordering information. Only $10. per DVD or $35. for the 4-DVD set, plus s/h. for US.
The First Nations Movement 4-DVD Set

The First Nations Movement DVD 1
(1) Perpetuating Nations' Myths - Mike Oppenheimer
(2) 11 Reasons To Reject This Movement, Part 1 - Sandy Simpson
The First Nations Movement DVD 2
(1) The Fingerprints Of God? - Mike Oppenheimer
(2) 11 Reasons To Reject This Movement, Part 2 - Sandy Simpson
The First Nations Movement DVD 3
(1) The New Indigenous "Christian" Religion - Sandy Simpson
(2) Did God Put Eternity In Their Hearts? - Sandy Simpson
(3) The Missionaries Brought A Foreign God - Sandy Simpson
(4) Catholic Syncretism - Sandy Simpson
The First Nations Movement DVD 4
(1) "Monotheism" In Ancient Cultures - Sandy Simpson
(2) The History Of The Knowledge Of God - Sandy Simpson
---
"Christians" Who Try To Poke Holes In Sola Scriptura
by Sandy Simpson


This DVD is a message based on this article: "Christians" Who Try To Poke Holes In Sola Scriptura

There are a number of the leadership of the Emerging Church (EC) who do not believe that the Bible is the highest authority for the Christian faith. Most do not believe that the Bible is inerrant in the original manuscripts and many do not acknowledge that the Bible is our highest revelation. Yet this is a core doctrine over which true believers and false brethren must separate. Those who try to poke holes in Sola Scriptura make excuses like (1) we need to reinterpret the Bible through the lens of postmodern culture and religion (2) the Bible never uses the words "Sola Scriptura" therefore it is not a Biblical concept (3) there is new revelation for the church through the Holy Spirit apart from what is written and the precepts of the Bible and (4) the Bible just doesn't address our postmodern situation therefore we cannot rely on it for the truth and answers for our problems today. I will prove that all the above arguments, and more, from EC leaders and others is exactly what they are teaching. I will give you quotes from their teachings, videos and books. The postmodern church and its "movements" are abandoning Sola Scriptura in their rush to be like the Roman Catholic Church, which takes its authority from a mix of Scripture and tradition.

"As a result the Church, to whom the transmission and interpretation of Revelation is entrusted, "does not derive her certainty about all revealed truths from the holy Scriptures alone. Both Scripture and Tradition must be accepted and honored with EQUAL sentiments of devotion and reverence." (Roman Catholic Catechism, Given October 11, 1992, the thirtieth anniversary of the opening of the Second Vatican Ecumenical Council, in the fourteenth year of my Pontificate. Page 31).

Go here for ordering information. Only $10. per DVD plus s/h. for US.

---
Updated DVD!
The Question Of Dominion
by Sandy Simpson



This DVD is a message based on this article: The Question Of Dominion.
I am writing this article as an apologetic against the Third Wave, Latter Rain, Word of Faith and Reformed Theology teachings that the Church is to rise up and take over the systems of government, businesses and every other aspect of life. "See, the problem is, is that Satan has had too much of his way in our society because he has a government! And the only way to overthrow a government is with a government. It won't happen otherwise. So therefore the government of the church has to get into place in the extended church just like we do have it very well in place, we haven't reached our goal yet ..." (Transcript of C. Peter Wagner, Arise Prophetic Conference, Gateway Church, San Jose, CA, 10-10-2004) Wagner has substituted the "government of the church" for the coming government of Jesus Christ in the Millennial Kingdom. Wagner is "Kingdom Now" while the Bible teaches "Kingdom Come". What I wanted to do with this article is put the issue of dominion to rest by studying the definition the Bible gives to dominion and ruling authority. When we look at the subject we can easily ascertain what is going on today and what God requires of the Church.
Go here for ordering information. Only $10. per DVD plus s/h. for US.
---
Shepherd Or Hireling?
by Sandy Simpson



This DVD is a message based on the article: "Shepherd Or Hireling?"
The Bible lays out the definitions of both an overseer (under shepherd) and a hireling. John 10:11-13 I am the good shepherd: the good shepherd giveth his life for the sheep. But he that is an hireling, and not the shepherd, whose own the sheep are not, seeth the wolf coming, and leaveth the sheep, and fleeth: and the wolf catcheth them, and scattereth the sheep. The hireling fleeth, because he is an hireling, and careth not for the sheep. (KJV) 1 Tim. 3:1-3 Here is a trustworthy saying: If anyone sets his heart on being an overseer, he desires a noble task. Now the overseer must be above reproach, the husband of but one wife, temperate, self-controlled, respectable, hospitable, able to teach, not given to drunkenness, not violent but gentle, not quarrelsome, not a lover of money. (NIV) Titus 1:7-13 Since an overseer is entrusted with God's work, he must be blameless, not overbearing, not quick-tempered, not given to drunkenness, not violent, not pursuing dishonest gain. Rather he must be hospitable, one who loves what is good, who is self-controlled, upright, holy and disciplined. He must hold firmly to the trustworthy message as it has been taught, so that he can encourage others by sound doctrine and refute those who oppose it. For there are many rebellious people, mere talkers and deceivers, especially those of the circumcision group. They must be silenced, because they are ruining whole households by teaching things they ought not to teach - and that for the sake of dishonest gain. Even one of their own prophets has said, "Cretans are always liars, evil brutes, lazy gluttons." This testimony is true. Therefore, rebuke them sharply, so that they will be sound in the faith. (NIV) A hireling does not really care about being a watchman, but is more concerned with protecting his reputation, position and income. A true watchman will guard the flock against wolves from within (Acts 20:30) and without (Acts 20:29) no matter the cost to his reputation, position or income. Following is a little quiz you can take to see if you are a true Biblical under shepherd as a leader in your church, are becoming a hireling, or are one now.
Go here for ordering information. Only $10. plus s/h. for US.
---
Testing Music In The Church
by Sandy Simpson



This DVD is a message based on these articles: Testing Music In The Church, Testing Music In The Church-Part 2, and Worship Song Ratings.
Too many churches today are allowing music to be used in their services that is not glorifying to the Lord and can actually be a hindrance to the teaching of sound doctrine. Pastors and leaders should be using their leadership role to test what is being played and sung in their churches. Though some are quick to test preaching and teaching from their pulpits, many ignore the music being used in the same services. This is a tragic mistake. Music is a powerful medium. It is something that effects deeply the body, mind and emotions. It is a proven fact that music often stays with a person far longer than what is taught or preached. Songs roam around in our heads, especially if the melody appeals to us. What is often overlooked is the serious impression music makes on people, and the teaching they are getting over and over again as they allow the song to repeat in their minds and on their lips. Music teaches things much more subtly yet sometimes far more effectively. That's why the lyrical content of music in the church, as well as its effect on the spiritual lives of those who perform and listen, should be vigorously examined by the leaders of the church. This is a 2-DVD set.
Go here for ordering information. Only $20. per 2-DVD set plus s/h. for US.
---
Examine Yourselves & Hold On!
by Sandy Simpson



This DVD is a message based on the articles "Examine Yourself To See If You Are In The Faith" and "Hold On!"
2 Cor. 13:5 Examine yourselves to see whether you are in the faith; test yourselves.
Do you not realise that Christ Jesus is in you - unless, of course, you fail the test?
People who call themselves followers of Christ or "Christians" and claim they are born again must believe certain things. If they do not then they fail the test of faith. They can claim they are born again all they want and "once saved, always saved" but if they fail the test of faith there is no eternal security. Only God knows who will be saved, from beginning to end, because of His foreknowledge and omniscience (Rom. 8:29, 1 Pet. 1:2). God did not make an arbitrary judgment about who would be saved and who would not. His Spirit is given to those He foreknew, when convicted of sin by His Holy Spirit, would choose to believe and commit themselves to Jesus Christ. We are not God and we do not have His omniscience. Therefore, according to Paul, we must be sure our belief system is in the right place once our eyes have been opened to the Truth. I am not saying we do not have assurance of salvation, but our assurance comes not only because of His Atonement and promises of salvation but from our continuing in the Faith, which is always the Biblical criteria. Those who would be Bible teachers must teach according to the whole counsel of God's Word. Let me be clear. There is only one way to salvation. That is by grace alone through faith alone in Christ alone. I will deal with a few of those issues following, but it is important to recognize that being saved is not just a matter of believing that Jesus lived, or that He was a man, or simply giving mental ascent to His existence in whatever form.
Go here for ordering information. Only $10. plus s/h. for US.
---
"Blasphemizing" The Bible
by Sandy Simpson



This DVD is a message based on this article.
I am going to go over an article I wrote back in 2006 in preparation for the book I wrote with Mike Oppenheimer called 'Idolatry in Their Hearts'. This book is an apologetic against the false teachings of the World Christian Gathering on Indigenous People movement, the Emerging Church and the New Apostolic Reformation which got their ideas from the book "Eternity in Their Hearts" by Don Richardson. At the time that book came out no one really saw the dangerous ideas Richardson was promoting. All they would have had to do was look at the two subtitles of that book to understand the implications. The first subtitle in the 1981 edition read: The Untold Story of Christianity among Folk Religions of Ancient People. Those who read this book found some interesting cross-cultural ideas but apparently missed the false premise of the book starting with the subtitle. How could Christianity be "among folk religions" where the Gospel had not been preached (Rom. 10:14-15)? At that time Christians who read the book were apparently satisfied that, though there was some questionable material present, it made for an interesting discussion on how to do cross-cultural ministry. The subtitle it has today, which was first published in 1984, is as follows: Startling Evidence of Belief in the One True God in Hundreds of Cultures Throughout the World. This should have been a red flag for many Christians but then, who reads subtitles? But how could the "One True God" be known to Gentiles who did "not know God".
Go here for ordering information. Only $10. plus s/h. for US.
---
Resources For Pastors
including
"Good English Bible Translations"
by Sandy Simpson



This DVD is a message based on this article.
I was talking with a pastor after a Wednesday night service and he mentioned that I said I had done an article comparing English Bible translations. He called me up later and asked me to come back and present the contents of that article I sent out in about 2002 to my mailing list for the Pacific Waves Newsletter which, unfortunately, I can no longer afford to publish and mail. However an archive of past issues of that newsletter can be found here. In that article I detailed a number of good and bad resources for pastors including Bible translations, concordances, commentaries, Bible dictionaries, etc. I present an edited version of part of that article on this DVD, particularly dealing with English Translations of the Bible. Translation is a very detailed endeavor and should only be undertaken by those with a proper education in that subject and a sound doctrinal background. I read a few books on that subject and it helped me understand the complexities involved. Hebrew is a rich language so it is hard to distill one Hebrew word down to one English word. Greek is a very technical language and it is also not easy to translate. This is why it is imperative to use the good English translations out there for comparison along with a good concordance and Bible dictionary.
Go here for ordering information. Only $10. plus s/h. for US.
---
A TALE OF TWO KINGDOMS
Kingdom Now or Kingdom Come?
by Sandy Simpson



This DVD is a message based on this article.
There are two kingdoms being taught in many churches today. Teaching about one of the kingdoms is on the decline while the other is being promoted all over the place. I am warning Christians that they need to check out who is using the word "kingdom", the books they have been reading and recommend on building "the kingdom", the people they have been hanging out with at conferences, and what they mean by "the kingdom".
Go here for more information or click on the "Add To Cart" below. Only $10. plus s/h. for US.
---
BIBLES STUDIES IN DISCERNMENT
by Sandy Simpson



Bible studies in Galatians, Philippians, Ephesians, Colossians, 1 John, 2 John, 3 John and Jude with a focus on applying timeless discernment priciples to our modern times.
Go here for more information or click on the "Add To Cart" below. The price is $18. per book plus s/h.
---
BIBLES STUDIES IN DISCERNMENT
Companion CD!
by Sandy Simpson
Contains the PDF text to the book BIBLE STUDIES IN DISCERNMENT plus extra studies by Sandy & Juanita Simpson covering many issues of apologetics and discernment.
Go here for more information or click on the "Add To Cart" below. The price is $10. per cd plus s/h.
---
A Whole Lot Of Wishful Thinking These Days!
by Sandy Simpson



This DVD series is a teaching based on this article.
In this DVD series I want to detail a number of beliefs people have these days that have no basis in Scripture. I am going to roam all over the map, so to speak, and try to give fairly short answers on a number of topics and also give you useful links to articles that will help you deal with any particular issue. It is truly amazing how many false ideas people cling to without giving a thought to what the Bible has to say on the subject.
Only $20. plus s/h. for US. Go here for ordering details.
---
Signs Of Apostasy In The Churches In The End Times
by Sandy Simpson



This 2-DVD series is a teaching based on this article.
There are many signs of the great Apostasy, or falling away (2 Thes. 2:3) indicating we are living in the end times (Mt. 24: 3-14) I am going to go through some indications of the Apostasy in the churches as a follow up to the signs of the times in the world.
Only $20. plus s/h. for US. Go here for ordering details.
---
The Responsibilities of a
Good Shepherd
by Sandy Simpson
This CD is a message based on this article.
Gohere for ordering details!
---
What's Up With Christian Bookstores?
by Sandy Simpson



This DVD is a message based on this article.
Go here for ordering details!
---
The ElijahList
The biggest promoter of false prophecies in cyberspace!
2004-2007
by Sandy Simpson



This 2-DVD set is a message based on this article.
Go here for ordering details!
---
The ElijahList
The biggest promoter of false prophecies in cyberspace!
2008
by Sandy Simpson



This 2-DVD set is a message based on this article.
Go here for ordering details!
---
The Extreme Prophetic
by Sandy Simpson



This DVD is a message based on this article.
Go here for ordering details!
---
Emerging Church CD & Free DVD
All the links to resources and articles we have on the Emerging Church on one CD.
by Sandy Simpson



(The Emerging Church only is downloadable!)
When you purchase the "Resource Tools - Emerging Church" CD for $10. plus s/h you will also receive a brand new free DVD called "The Emerging Church" that features Gary Gilley, Ray Yungen, Joanna Michaelson, Mike Oppenheimer and Sandy Simpson.
Go here for ordering details!
---
From Church To Emerging Church DVD Series
by Sandy Simpson
The issue of the Emerging Church and it's introduction into many churches and mission organizations has reached a critical point. Many do not undersand what is being leavened into churches by the EC leadership. Many would be shocked to know their belief systems involve Universalism, New Age, defense of postmodernism, Interfaithism, and many other false doctrines. In order to reach out to this generation the EC leadership is proposing a whole new "map" to deal with what they perceive is a lack of understanding on the part of the churches on how to communicate. EC proponants believe the "scripture" for today is evolving and must change in order to reach postmoderns.
Go here for ordering details on this 2-part DVD series!
---
Idolatry In Their Hearts
Landmark Book!
by Sandy Simpson & Mike Oppenheimer
Does having eternity in your heart mean that you know God and are His child? Could Gentile cultures understand the Gospel from the stars? Did God create man's cultures? Has God always been in the process of redeeming cultures from the time of Babel by placing in them a true revelation of Himself? Is there the worship of YHWH in all cultures and religions through the names of supreme beings? Have all cultures always had a way to make things right between them and God? These questions and many more are answered in this book that addresses the false teachings of The New Apostolic Reformation regarding missiological methods as being carried out by many agencies including the World Christian Gathering on Indigenous People, YWAM, and many Bible societies.
Go here for ordering details.
---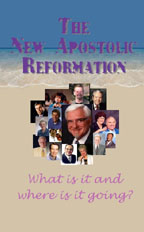 The New Apostolic Reformation - What is it and where is it going?
Every Pastor Needs This!
by Bill Randles, Arnold Fruchtenbaum, Jacob Prasch, Mike Oppenheimer, Orrel Steinkamp, Gary Gilley, Dave Hunt, Sandy Simpson and others.
This is a 6-DVD expose of the NAR and it's leadership of C. Peter Wagner, Cindy Jacobs, Chuck Peirce, Dutch Sheets, Bill Hamon, Jack Deere and others.
Go here for ordering details!
---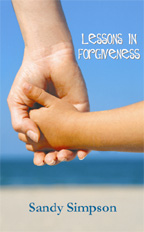 Lessons In Forgiveness
Great Study!
by Sandy Simpson



Through the years I have been presented with many opportunities to forgive. Sometimes the situation was so severe that it took me some time to forgive and start the process of healing for myself, and eventually for others. I learned that a Christian needs to forgive other people even if they have not repented of their sins. That can be really hard if we let it be hard. But if we give our burdens over to the Lord, He will carry them and that frees us up to treat other people with love, compassion, and be in the right frame of mind and heart to set them up for reconciliation with Jesus Christ. That does not mean we tolerate their sin. We simply forgive them for what they have done to us, whether perceived or real, and move on to looking for ways to redeem them. We can then present to them the "truth in love" even when we have to rebuke them.
Go here for ordering information.
---


by Sandy Simpson



was written to help believers to realize the absolute necessity of growing to maturity in Christ. Many churches are urging Christians to push aside discernment in favor of experience. It is our hope that this book will inspire many believers to fight the good fight, finish the race, and keep the faith (2 Tim. 4:7).
Go here for ordering details.
---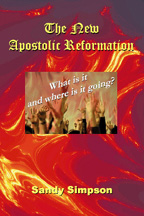 The New Apostolic Reformation - What is it and where is it going?
Companion Book!
by Sandy Simpson



is now available in book form. This is the DVD script plus commentary by Sandy Simpson. The commentary of the DVD series is not in the book, but there are many more quotes available than in the video series. Good reference material. Also available on CD-ROM.
Go here for ordering details.
---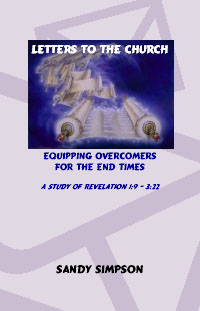 Letters To The Church
Timely!
by Sandy Simpson



is a fitting manual for the Revelation Christian. All the precepts are in the seven letters in Revelation 1:9 - 3:22 to help us keep the faith, stay in sound doctrine, and reach out to those who are perishing. I hope and pray that this book will help the reader to be an "overcomer".
Go here for more details and how to order!
---
DISCERNMENT TOOLKIT
Demolish Arguments!
by Sandy Simpson



Want to be able to see your way through to clear biblical discernment? Want a set of tools that will allow you to disciple your loved ones so they will stand firm in the Faith? Want to sort out many of the false arguments and teachings that have invaded the churches? Then DISCERNMENT TOOLKIT book is for you!
Go here for more details and how to order!
---
DISCERNMENT TOOLKIT
DVD Study Series!
by Sandy Simpson
is taken from the book but includes a lot of footage of false teachers and false prophets. It covers the core doctrines, how we can use them to test, and examples on the DVD that can be paused for discussion. Also includes a teacher guide and links to resources on the web. This 3-DVD series is available now!
Go here for ordering details!
---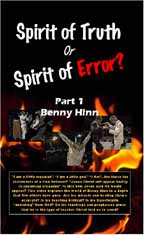 SPIRIT OF TRUTH OR SPIRIT OF ERROR?
Important Video Information
On Benny Hinn!



by Sandy Simpson, Mike Oppenheimer & Jacob Prasch
features tons of video showing the teachings and prophecies of Benny Hinn. This is a proven tool to keep people away from heresy.
Go here for more details and how to order!
---
LIVING WATER 2003
Discernment Conference
Featuring Bill Randles, Gary Gilley
& Ray Yungen
3-DVD Set
Go here for information!
---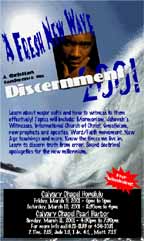 DISCERNMENT 2001
Conference
Featuring Dave Hunt, Duane Magnani, Mike Oppenheimer, Jacob Prasch, Jewel Grewe & Bill Randles
6-DVD Set & 2-VHS Sets
Go here for information!
---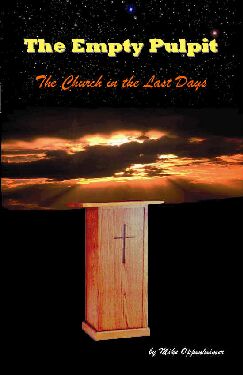 THE EMPTY PULPIT
Highly Recommended!
by Mike Oppenheimer
What is Christianity? What significance does the cross have? Are there teachings that can wreck our faith? We live in an age unlike any other in the history of man. To follow the Lord among the unique challenges we must understand Scripture and live by it. Available for $20- includes shipping. Apologetics Coordination Team HIGHLY recommends this book. It deals with many crucial issues for the Church today.
Go here to order the book by Mike Oppenheimer, Let Us Reason Ministries, P.O. Box 860683, Wahiawa, HI 96786.
---
---
Articles highlighting the apostate "church".
---

(1) Lessons Learned From End Times Bible Prophesy - Avoiding The Great Deception by Clay Watts, 1997
Some thoughts on avoiding the end times deception that will deceive many people.

(2) Revival Or Apostasy by Dave Hunt, 1997
"While a true Christian cannot fall away, a false Christian can. Fall away from what? From the faith in Christ which he or she has outwardly professed without inward reality. Those few apostates who announce themselves as atheists or convert to Buddhism or Hinduism are not the concern of Christ and Paul. They are warning of a turning from the truth within the professing church."

(3) Apostasy by Steve S.R. Shearer, Antipas Ministries, 1997 "The sad fact of the matter is, today's evangelical church is headed up by a group of frauds - fakes who present themselves as evangelicals and as the heirs of our evangelical faith, and who trade on the godly reputation of yesterday's evangelicalism, while all the while they deny the very doctrines which empowered that church and made it what it was. It may be an indication of how close to the end we really are. The Bible says, "Now the Spirit speaketh expressly, that in the latter times some shall depart from the faith, giving heed to seducing spirits, and doctrines of devils ..." (I Tim. 4:1)" (This article is no longer available.)

(4) If It Looks So Good, How Can It Be Deception? by Barb Wilhelm, 1998
"Our criteria for truth, therefore, is not if it looks, sounds or feels "good." Partaking of the tree of the knowledge of GOOD and evil was our first sin - thinking we knew what was "good". The remedy for that sin in the Garden of Eden was "Yes, God HATH said!" Today, the remedy is still the same - has God said in His Word that it is good."

(5) A Nation Under Delusion! by David Wilkerson, 2/15/99 "You see, Paul was calling God's people everywhere to love the truth - to search it out, study it and obey it. He wrote, in essence, "Let the truth be your guide! Don't turn aside from it. Ask the Holy Spirit to give you eyes to see it, ears to hear it, and a heart to love it. Otherwise, you'll open yourself to deception - and you'll end up believing a lie. Satan will be able to initiate you into the cult of Antichrist!" Wilkerson condemns Word-Faith teachers in this recent message, referencing Kenneth Hagin by all accounts, and by association all who teach the prosperity doctrine of demons. He even predicts that the antichrist will be the greatest prosperity teacher of all time. This is what DITC has been saying for some time.

(6) The World Christian Movement - EvangelismVs. Evangelization by Albert James Dager, Media Spotlight, Volume 22 - Number 1 (Summer 1999)
"The Lord's prophecy concerning the greatest end-time deception should warn us that things are not always as they seem. For a deception to be so seductive that even the very elect would take pause to wonder if it is of God, it would have to have all the earmarks of a true work of God. That means it would come in the name of Jesus, it would have a great deal of solid biblical truth, it would affirm the Gospel, and it would be a "good work." And signs and wonders would accompany it. Those who might recognize and expose the deception would be looked upon as divisive, hateful and deceived themselves. For the most part, the churches would go along with the deception." Read Part 1, Part 2, Part 3 & Part 4.

(7) The Ascended Masters by Diakrisis International, 1999
"The discernment of the true identity of this imminent 'Dawning' is a matter of some urgency for Christians today. Never, at any stage in history, has the scene been so fully set for the manipulation of a deception of global proportions through the instrumentality of these 'Unseen Forces'. For the situation in which we find ourselves today is more bizarre and far-reaching than the most imaginative science fiction novel. Millions of people of all ages are tuning into and receiving instructions from these
spirit-entities."

(8) Heresy And Apostasy by Warren Doud, 1999
"Heresy itself, which is the result of making a wrong choice among competing ideas, may have been entered into as a result of being deceived (EPH. 4:11-18) or of falling into a snare of Satan. Heresy becomes apostasy, however, whenever a person deliberately decides to reject Bible truth and maintain and promote false ideas. This paper is written to help believers avoid error, heresy, or apostasy."

(9) Apostasy by Neil Rivalland, 10/00
"Now the Spirit speaketh expressly, that in the latter times some shall depart from the faith, giving heed to seducing spirits, and doctrines of devils; Speaking lies in hypocrisy; having their conscience seared with a hot iron; Forbidding to marry, and commanding to abstain from meats, which God hath created to be received with thanksgiving of them which believe and know the truth. (1 Tim 4:1)"

(10) The Two Churches In The End Times by Mike Oppenheimer, Let Us Reason Ministries, 2/00
"As Christians our attitude should be the truth no matter what, even if we must disregard certain men who have taught otherwise. We are to follow Christ and His appointed apostles teachings to walk in the truth. May we be HIS disciples persevering until the end. "

(11) The Apostasy Sweeping Over The Churches by Dr. A.C. Gaebelein, Bible Institute of Los Angeles, August 17, 1919
"The greatest evidence that man has a darkened mind and a corrupt nature is not the existence of the gambling den, nor the house of ill fame. The greatest evidence is unbelief; the fact that the human heart definitely and positively refuses to listen to the voice of God; that there is a heart which hates the light and loves darkness; and the greater the light which is rejected and refused, the greater the darkness, and finally God who is Love and Mercy can do nothing else."

(12) Mockers Come A-Mocking by Jackie Alnor, Apostasy Alert, 8/13/06
But for many professing Christians, the opposite is happening. Many are rejecting long-held beliefs in the Rapture of the saints, and false teachers are rising up teaching Preterism: the belief that "the end-time events specified in the New Testament have already been fulfilled.

(13) Apostasy In The Church - How it is accelerating and how it relates to the return of Jesus by Dr. David R. Reagan, 2007
The Bible clearly prophesies that the Church of the end times will be characterized by apostasy. Paul said that the Antichrist will not be revealed until "the apostasy comes first" (2 Thessalonians 2:3). Jesus prophesied that "many will fall away" and "most people's love will grow cold" (Matthew 24:10, 12).

(14) The New Dark Ages Part One-Setting The Stage by Tim Worth, The No Goofy Zone Discernment Ministry, 4/07
Rather than criticizing these early believers for "checking out" the veracity of what had been taught to them by the apostle Paul, this verse actually praises them for doing so. And while it is clear from the Greek text that the Bereans are being applauded here primarily for their enthusiastic acceptance of the Gospel, this verse also - so far from condemning them for a lack of trust - actually commends them for their action. This verse plainly approves the practice of taking the time and interest to consult the scriptures in order to establish the veracity of what is being taught. Read Part 1 & Part 2.

(15) The Letter To Laodicea Is A Warning To The TRUE Church Today by Sandy Simpson, 4/30/07
Much has been made of this passage, using it to point out what is happening today in the apostate churches around the world. It is true that they believe they are rich in spiritual things when they are very poor. It can be applied in one sense to the Word of Faith movement. It is true that the "River" movement of Latter Rain teachings do think they are hot when actually they are cold. But this letter to the end times church of Laodicea is actually talking to biblical Christians who are born again. The apostate movements of the Latter Rain, Third Wave, Toronto "Blessing", Vineyard, Brownsville "Outpouring", Word of Faith, New Apostolic Reformation, World Gathering on Indigenous People, Manifest Sons of God, Seeker Friendly, Church Growth, Emerging Church and many others have already had their lampstands removed (Rev. 2:5) because of their apostasy and have already been spit out of the Lord's mouth (Rev. 3:16).

(16) The Great Apostasy by Jackie Alnor, Apostasy Alert, 8/4/07
It is not my intention to paint the Crouches and all of TBN programming as apostate, but to sound a warning of the direction I see the network taking away from the faith once and for all delivered to the saints. If they heed the warning, not only sounded by me but by many voices of concerned watchmen in the church, they still have time to repent and make a course correction before they are totally given over to believe a lie and be damned. If they have no love for the truth, the Bible says that is their fate.

(17) Heresy by Proxy by Sherry Neese, Apostasy Alert, 10/01/07
"These teachers practice heresy by proxy. A proxy is someone who stands in for another. They consort with heretics and thereby encourage their followers to partake of their apostasy. They mix truth and error, a deadly concoction. They give the impression that the truth they speak is compatible with the falsehood they endorse. This is not 'guilt by association," this is guilt by endorsement."

(18) Truth: The Remedy to So-Called Knowledge by Jackie Alnor, Apostasy Alert, 12/9/07
The modern world poses modern problems when it comes to understanding spiritual truth. Everyone these days are claiming special knowledge with scientific sounding verbiage that impresses the simple minded and the scholar alike. As I have shared many times, I honestly believe that professing Christians are being conditioned to believe in a faith that sounds good but is in opposition to the truth and it's all done in the name of truth. But is all truth God's truth? God's Word IS Truth and that is the ONLY Truth we should set our hope upon.

(19) Willful Ignorance by Herescope, 11/6/08
We live in a time of great apostasy when many choose to ignore or disbelieve the simplicity of the Gospel of Salvation, the message of the Cross. Many of the new heresies are intricate, complex, always evolving, and "emerging" with new theologies, philosophies, terminologies, eschatologies, ecclesiologies, etc.

(20) Turmoil In The Church by Cullen Bentley, 11/06/08
As I look into the world today in which we live it has become more and more troublesome. The morals and ethics have gone far away from the past time periods of old. Our society has become a cesspool of filth and degradation with despair and depression at every corner. Our children have become outcasts and the parents are clueless to the ills they see and live with. The rebellion streams from every faucet and every crack on the corner. The street overpasses are home for the needy and the churches are nothing more than gatherings of lustful people seeking what God can give them so they can claim favor and prosperity as his blessings. There is no more humility or peace within the soul of mankind. It seems all people are anxious and striving with everyone and everything they encounter. They are never satisfied or content with what they have and always seeking more and more at the expense of others. They look to obtain what they call the epitome of success and are never fully fulfilled because it never ceases to end. Our church's are a disgrace to the world at large. They have just as much and even more greediness, corruption, filth and immoral living than even the morally unsaved person who looks to do good and live a peaceful life. The preachers have not become men of God walking closer to the light of Christ, but idols of darkness from within their own evil heart and its desires. They seek mans adulation and confirmation that success is in numbers and in what a man may possess materially. They have raised themselves up to the status of a celebrity and all the exposure that accompanies such fame.

(21) "Plead with your mother, PLEAD"- How to Approach a Church Heading Into Apostasy by Herescope, 12/31/08
The book of Hosea is a study for our times. Hosea's wife is an intense illustration of how individuals and churches leave their First Love and wander off pursuing lovers and lusts, passions and idolatries.

(22) Doing Good in the day of Evil by Mike Oppenheimer, Let Us Reason Ministries, 8/18/09
How are we to act in the this time of darkness we live in?

(23) Close The Doors by Jackie Alnor, ApostasyAlert, 8/20/09
Back in the early 1980s when I was a new believer I remember something a local church used to do but now is just a memory. They used to have a closed door gathering once a week they called "believers' meetings." That was not open to the public; it was just for committed Christians - a chance to get together without the general public. I think they were onto something. It seems today, more than ever, that needs to be looked at again.

(24) Apostasy by T.A. McMahon, 9/8/09
This is a video clip. Works in Explorer. Did not work in Firefox for me.

(25) God's Word Shines Light Upon End Time Apostasy by Roger Oakland, 9/21/10
Just as God was faithful to His people in Bible days, He will be faithful to His people today. It is possible for biblical Christianity and the true Gospel to be proclaimed in these days. I believe this watershed occurrence, that is a dividing of two different systems, is beginning to happen. Which side of the divide will you be standing on? Will you stand with the Lord in His Word and in truth?

(26) Leaders Of Apostasy by Rapture Ready Radio, 12/29/10
Apostasy: the state of having rejected your religious beliefs or your political party or a cause (often in favor of opposing beliefs or causes). Chris did a fantastic job of putting together the different arms of the Apostate Church that is the heart and soul of the last church age, the church of Laodicia.

(27) Apostasy and Its Antidote by T. A. McMahon, The Berean Call, 2/1/11

As the battle intensifies, which Scripture indicates it will prior to the Lord's coming for His saints, we need to be "praying always with all prayer and supplication in the Spirit, and watching thereunto with all perseverance and supplication for all saints" (Ephesians 6:18). We need to circle the wagons with other believers for fellowship and spiritual protection, for counsel, for encouragement, for correction, for comfort, and for ministry to one another. If such things become our practice while we wait upon the Lord, even though the Apostasy dries up the spiritual environment around us, we shall be like a tree planted by the rivers of water, that brings forth its fruit in its season, whose leaf also shall not wither; and whatever we do shall prosper in the Lord.


(28) Asleep On The Watch by Steve Muse, 6/15/11
I have been told that in this day and age the role of watchman as understood in the Old Testament has been done away with, that it is not necessary because we are not under the wrath of God but under grace through Jesus Christ. If there are watchmen today, I am told, they cannot be held to the same degree of accountability that God required of Ezekiel. If there are watchmen today as described in Ezekiel, who are these watchmen? And after examining the following from Ezekiel 33, who would ever want to be put in this position?

(29) A Deepening Deception by Mike Oppenheimer, September-Novemeber Let Us Reason Ministries Newsletter, 9/8/11
Time is an interesting concept, it keeps moving forward. We can remember things that have taken place in the past and experience the present, but we cannot change the direction of time. I'm not philosophizing or being intentionally melancholy but want to make the point that: We are quickly moving toward a time that is spoken of in the Bible. I (and others) have watched, documented, wrote and spoke on the state of the church for over 20 years. We see that we are at a point in both the world and the church where a deeper level of deception is occurring. I know this word is repulsive to some, just as the word sin is to the world but I'm only being candid on what I see.

(30) Sounding the Trumphet in the Midst of Apostasy – The Enemy is in the Camp! by David Dombrowski, Lighthouse Trails Editor, 11/21/11
Over the past ten years, we have watched with a mixture of surprise and sadness at how an apostate church has materialized before our eyes. It all began for us here at Lighthouse Trails when we met Ray Yungen in 2000. Though we were not publishers back then, he shared with us his manuscript A Time of Departing, which spoke of a coming apostasy in the form of mystical practices and "spiritual disciplines." Stirred by the content of that book, we agreed to help him find a publisher. But, at the time, we never imagined how relevant and prophetic that book would be nor how quickly this apostasy would flourish in the mainstream churches. Today, it is even difficult to find a church that has not been compromised by some form of eastern-style mystical practice or emerging church philosophy. Now e-mails and letters pour into our office telling how readers who either just discovered us or were at one time skeptical of our warnings are now shocked to see that these things have entered their churches.

(31) The Falling Away - Rapture or Apostasy, Which Shall It Be? by Apostasy Watch, 12/3/11
Read Part 1, Part 2 & Part 3.

(32) North American Pastors and the Church on Borrowed Time by David Dombrowski, 12/5/11
The church of today is very much astir. Everywhere we turn, embellishments are being added to Christianity as if to improve it. The old ways do not seem to satisfy anymore. A great influx of new teachings and practices have exchanged the God of old as depicted in the pages of the Bible with a deity much more palatable to the post-modern mind. Brennan Manning illustrates this when he stated in one of his books, " . . . the god who exacts the last drop of blood from His Son, so that His just anger, evoked by sin, may be appeased is not the God revealed by and in Jesus Christ. And if he is not the God of Jesus, he does not exist."1 This "progressive" contemplative/emerging church has gone so far as to place in pulpits men who blaspheme God and who deny the atonement. But let us step back for a moment to see how emerging thought has developed. Such a statement did not come out of the blue, but as Ray Yungen suggests, a "creeping" effect made it all possible.2

(33) Great Deceptions in the Church by Rick Frueh, 6/16/12
I think there are many more than just these.

(34) The Church of the Apostasy, Part I by Dr. Arnold G. Fruchtenbaum, excerpted from The Footsteps of the Messiah – A Study of the Sequence of Prophetic Events, 7/23/12
"The old apostasy was marked by verbal 'destructive denials.'"

(35) The Church of the Apostasy, Part II by Dr. Arnold G. Fruchtenbaum, excerpted from The Footsteps of the Messiah – A Study of the Sequence of Prophetic Events, 7/23/12
"The new phase [of apostasy] claims to affirm the fundamentals of the faith…"

(36) Why People Hate Those Who Expose False Teaching by Tim Wirth, 9/11/12
Many of you know that Im a member of a group called Concerned Nazarenes. Now I am not an official Nazarene but used to attend a Nazarene church because I admire and believe the belief and focus on holiness. The Nazarene denomination as a whole though is fleeing from everything thats holy in my opinion. There was a Facebook letter launched against our group and I feel a need to address it. Some others of our group have tried to respond with a defense but of course their comments were immediately taken off. The scriptural and actual truth is always going to be deleted when a good solid defense is made so I decided to address this in this article. I do acknowledge a persons right to delete anything on ones personal page. I will allow comments on this post Here was the guys rant.....

(37) Accelerating Apostasy In The Visible Church by Walter Martin, 1928-1989
Let me tell you something that I have learned; I know the liberals. I know them well; I was one of them. And they are the most dangerous, insidious, and all-pervading cult that's loose in the United States right at this moment.

(38) The Road to Apostasy by Mike Gendron, 2/20/13
Churches and denominations that once upheld the faith of the apostles have drifted into apostasy. Church history reveals 4 significant steps that lead to apostasy.

(39) Seven Stages to Apostasy by Truth Watch NZ, 10/24/13
Truth Watch contends that many churches in the western world have already or are sliding towards apostasy. We have developed a seven stage process to describe this slide and invite you the reader to examine each stage and determine where your church, or elements within it may stand.

(40) Glitter Christians by Sandy Simpson, 11/21/13
This is a name I came up with for people attending and teaching at Oral Roberts University in the 70s. Even back then I had come to realize that their way of representing Christianity was not in line with the Scriptures. At that time I didn't know that Oral Roberts was carrying on the Word of Faith traditions of New Thought practitioners such as Kenneth Hagin, Kenneth Copeland, Essex Kenyan, Norman Vincent Peale, Robert Schuler, and many other false teachers of the time. Though I didn't know anything about Word of Faith or New Thought then I knew that the way they were representing Christianity was just not right somehow. Their desire to portray Christians as rich, beautiful, healthy, perfect, and virtually sinless (holiness) went directly against the example of Jesus, the Apostles and the early church.

(41) Is Dominionism Working?by Sandy Simpson, 12/18/13
Since the counterfeit revivals of the mid 80's there has been a claim by many Latter Rain /Word of Faith groups that the church is going to take over the world, taking control of the governments, businesses and every other aspect of life. Movements such as the Toronto "Blessing", Brownsville "Outpouring", Word of Faith, New Apostolic Reformation, Emergent Church, and many other related Latter Rain movements have been claiming that they are making radical changes in people's lives due to miracles, prophecies, dead raisings, and growing numbers of people attending mega churches. So by now, in 2014, we should be seeing the effects of this wonderful scenario that the false apostles, false prophets, false teachers, and false Christs of these movements have predicted. Where is the actual proof that Dominion IS is working?

(42) A Recurrence of the Times of Noah and Lot by Herescope, 7/2/14
Note to reader: The article below is an example of what evangelical prophecy leaders and organizations used to teach 20-40 years ago. Not so long ago, before the postmodern prophecy paradigm era, this sort of article was commonplace. Writings such as this served as an encouragement to the reader to 1) expect the Lord's imminent return and 2) be ready to meet the Lord "here, there or in the air." Believers exhorted one another that He could return at any time because all events on earth were coinciding to fulfill Bible prophecy, and that before the end the Gospel of salvation should be shared far and wide, especially to family and friends. As yet another sign of the times we note that publishing such an article today, especially with this eschatology, is likely to be met with scoffings (2 Pet. 3:2), even open disbelief (1 Pet. 3:4). For some of you, this may be the first time you have ever encountered this (now) old-fashioned Bible prophecy teaching. Read and consider: what if it is true?

(43) Will you be the Last Man Standing? by Mike Oppenheimer, 8/7/14
From good to bad; chronicles of the last days apostasy.

(44) Certain Men Have Crept In by Roger Oakland, 8/27/14
Jude was called by God to send a message to the church. It seems the simple gospel of Jesus Christ was being compromised. Apparently, "certain men had crept in" and were the cause of great concern.

(45) What I Fear More than Islamic Jihadists by Michael Youssef , 3/11/15
"I do not fear Islamic Jihadists nearly as much as I fear the Christian church in the West departing from biblical orthodoxy." That was how I opened a speech I made recently to the National Religious Broadcasters convention in Nashville, Tennessee. What gives that fear such certainty is the knowledge of a historical fact—namely, throughout history, Islam grew when Christianity was weakened through its departure from biblical authority. There is no doubt that Islam grew out of a corpse of a church that was beset with heresy and apostasy. Immediately prior to the rise of Islam, viruses of false gospels had marred Christianity beyond recognition. Christianity dominated regions of the Middle East, North Africa, and Europe. But despite that strength, the founder of Islam was confused and frustrated when he listened to some Christian leaders casting doubt on the divinity of Christ—the very heart of Christianity. The falsehoods facing the church then are not unlike the ones the church in the West faces today. Then, they were known as: "Arianism," "Nestorianism," "Sabellianism," "Ebionism." Today, they go by names such as: "universalism," "heterodoxy," "emergent church," "insider movement," "hyper grace," "Chrislam."
---
New Sandy Simpson Messages
on CD & DVD
---
NEW!
How To Discern, Test & Judge Rightly
by Sandy Simpson


This DVD is a message based on this article.

In running a web site with thousands of articles, 1-2 million hits per month from all over the world, and hundreds of e-mails per week, I have come to realize, with time, that there is a terrible problem in Christendom today. The problem stems from an existential subjective view of the world that has filtered into the church from secular society, but also from the teachings of heretical wolves who have taught an entire generation of churchgoers completely unbiblical methods of discernment or to get rid of any discernment altogether.

Only $10. plus s/h. for US.

Go here for product information.
---
We need a firm foundation to weather the storm of false ideas
by Sandy Simpson


This DVD is a message based on this article.

Matthew 22:29 Jesus answered and said unto them, Ye do err, not knowing the scriptures, nor the power of God. (KJV)
Matthew 7:24 "Therefore everyone who hears these words of Mine and acts on them, may be compared to a wise man who built his house on the rock.
How firm a foundation, ye saints of the Lord,
Is laid for your faith in His excellent word!
© 1787 Joseph Funk & Robert Keene

A house built on the rock will stand. The Rock is God and in particular, Jesus Christ. Therefore His written Word is the teachings of the His Holy Spirit and a Rock we can depend on. Anyone who wants to prove anything theologically, historically, scientifically or anything else needs to start with correct information. If you start with a faulty foundation, as you build your arguments, they begin to fall apart because they are not supported in God"s truth. If you want to build on a firm foundation, you need to start the process by a careful study of God"s Word in context of the verse and according to the whole counsel of God"s Word. The Bible is the best commentary on the Bible.

Only $10. plus s/h. for US.


Go here for product information.
---