come. These servants represent God's servants of the past and present: prophets, apostles, pastors, missionaries, or anyone who faithfully serves the Lord. What is our job today? We are to call people to come to the Lord and get ready to meet Him. We will all meet Him someday, either at the wedding or at the judgment. Much to our surprise, we read that 100% of the guests refused to come. Imagine the discourtesy and insult to the king and his son by their refusal! How much greater is the insult to God and His Son when people ignore God's gracious call!

We have learned in Jesus' parable about God's kingdom. Now we learn about God's character. The king kindly sent His servants to remind the already invited guests. Here we see God's kindness, gentleness and compassion. II Pet. 3:9 What did the king do when they refused to come? Matt. 22:4 He sent more servants to tell them, "Hurry! The food's on the table. Come and celebrate with my son and me." What was the response? Some went off to their fields and businesses as if to say, "I have more important things to do than go to your party." The rest mistreated his servants and killed them. They wanted the king to know how much they despised him. Today some people are so busy that they just ignore the Lord. In some countries Christians are being tortured, thrown in prison and killed for inviting people to come to Christ.

What was the king's response to these insulting and murderous behaviors? He was very angry and sent his army to
destroy the murderers and burn their city. This may have been a prediction of what would happen in 70 AD. Jesus had warned the Jews that if they rejected and crucified Him they, the temple and Jerusalem would be destroyed. Here we see another aspect of God's character. He is not always gentle. He is also "a consuming fire". Heb. 12:28-29 We cannot play games with God.

Did the king call off his plans for the wedding feast because the invited guests refused to come? No! First, he said that the ones invited didn't deserve to come. Their choice showed that they didn't deserve the honor. In the same way some will not "deserve" heaven. God made it possible for us undeserving sinners to become "deserving" by having our sins forgiven when we repent. But we have to make the choice and answer the call. Next the king once again sent out his servants - this time to the "street corners". Who would they find there? Probably ordinary people as well as the homeless, beggars and prostitutes. The invitation was open to anyone willing to come. What a strange mixed crowd this was at the wedding feast! Is this what we will find in heaven as people from every tribe and language gather there?

Of all the strange assortment of people who finally made it to the king's wedding feast, one was singled out. Matt. 22:11-12 The king noticed one who wasn't wearing wedding clothes. Well, they probably found him on the street corner. Maybe he was poor and didn't have the right clothes. No doubt this man had been
offered the proper clothes by the king's servants when he entered. We find out in Rev. 7:9,14 that no one will be at God's wedding feast except those who are dressed in white robes. How do we get those robes? God gives them to us when we repent and ask His forgiveness. Our "clothes" - our hearts - are then washed in the blood of the Lamb. The man was speechless before the king because he knew he had no excuse. He had refused the offer of a white robe. All who try to get into God's wedding feast without having been washed in the blood of Christ will be without excuse before Him.

What happened to this man who tried to sneak into the feast without the proper clothes? The king had him thrown into the darkness where there will be "weeping and gnashing of teeth". This is also the character of God. He is the Judge. Jesus said that He is the one and only Way to the Father. If we refuse the Father's plan and provision for our salvation, we, too, will be thrown out. We will leave the Light to enter the darkness and will spend eternity weeping and gnashing our teeth over our foolishness and rebellion. Matt. 7:21-23; 24:51; 25:30, 46

Jesus ends this parable with this summary: "For many are invited, but few are chosen". This parable helps us understand that God has invited many - in fact, the whole world. The few who are "chosen by God" are those who have left other things to come when God called them, and have been washed in the blood of His precious Son. They are those who love and respect the King and His Son and
want to be with them at the wedding feast. If we choose Christ, we become "the chosen". Then we can invite others to come to the party that God is going to give for His Son.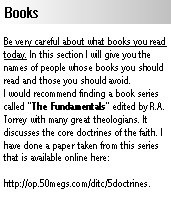 html

It will help you teach the basic doctrines of the Christian faith to your church and help them be able to stand in them.

Great authors to read would include Charles Haddon Spurgeon, A.W. Tozer, Oswald Chambers, C.S. Lewis, Amy Carmichael, E.M. Bounds and some newer authors like Elizabeth Elliot, William MacDonald, Chuck Swindoll, R.C. Sproul, Henry Morris, Ken Ham, Josh MacDowell, Erwin Lutzer, Bill Randles, Dave Hunt and many more.
On the Internet you can get some great help at Bible.Org on how to build a good pastoral reference library at: http://www.bible.org/docs/pastor/library/toc.htm

Also check this page on starting a church library if you want to put together a serious place of study:

http://www.bible.org/docs/pastor/library/maness/library.htm

I also highly recommend software books you can access with your computer. I have the Tozer CD-ROM Library with over fifty
works of A.W. Tozer and a few other books. You could never afford to buy all of Tozer's books, but you can on CD-ROM.

Authors to avoid and to take a stand against would be Rick Joyner, Benny Hinn, Kenneth Copeland, John Dawson, George Otis, Jr., Dutch Sheets, Paul Crouch, Pat Robertson, Tony Campolo, Paul (David) Yonggi Cho, Richard Foster, Joyce Meyer, Arnold Murray, Tommy Tenney, Jack Deere, C. Peter Wagner, Bill Hamon, Cindy Jacobs, Nicky Gumbal, John Wimber, Creflo Dollar, Jesse Duplantis, Kenneth Hagin, Marilyn Hickey, Rodney Howard-Browne,